Partitions & Build
Structual elements to create the perfect office space.
We provide a free no-obligation site survey to enable us to discuss your requirements, explain the different options and assess the quantities of materials required. Following on from the survey we will provide you with a quotation.
From Sound reduction to fully glazed with glass doors – we can cater for all your internal partition requirements.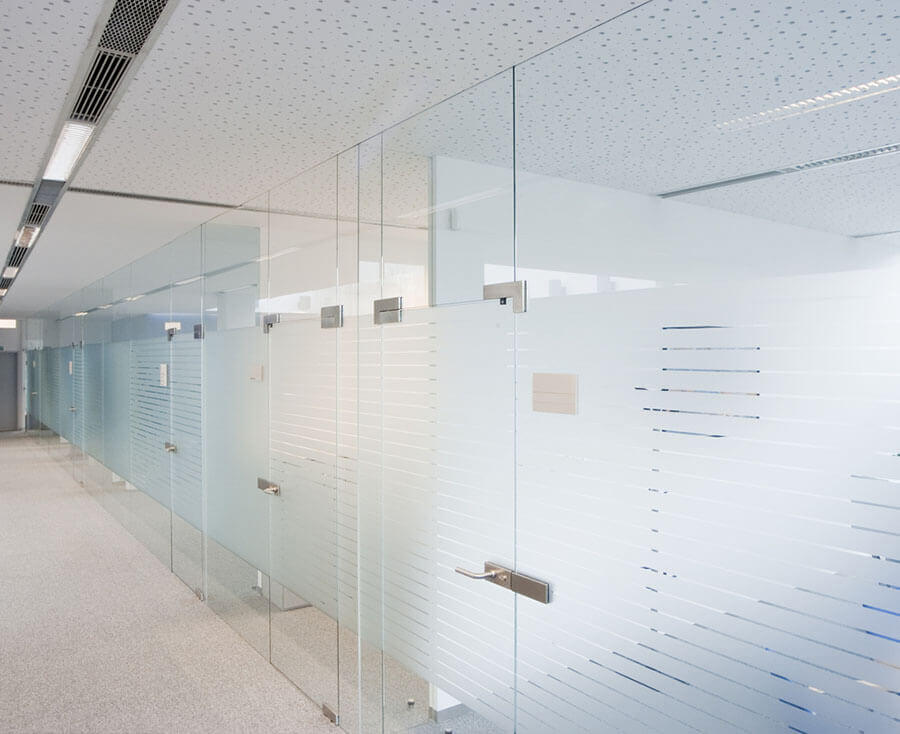 Structual elements to create the perfect office space.
Anything from a functional basic system to fire rated, sound reduction of full height glass with graphics. Incorporated with the correct use of colour and lighting this can significantly enhance your working environment.
The use of space is essential to all businesses. How that space is divided up is equally important. Partitioning can be used to create designated areas within the office space to cater for numerous areas which may need to be kept separate
Fully-glazed partitioning can be installed using a silicone or dry joint with manifestation to the glass. Double-glazed windows with integral blinds may also be incorporated. Doors to the partitioning may be veneered or frameless glass depending on the system used and the required visual and sound retention specifications.
We are suppliers of Tenon Systems, SAS and Nevill Long's Longline Partitioning product
Ceilings
The sky's the limit
There is a wide range of different ceiling finishes that may be achieved; however, the two main methods of providing a new ceiling are Suspended Grid Ceilings or Fixed Plasterboard Ceilings.
We are able to supply and install the majority of ceiling products from some of the leading manufacturers including AMF, Armstrong, British Gypsum, Donn, and Lafarge.
Suspended Ceilings are formed using an exposed or concealed grid system suspended from the soffit. Suspended ceilings offer good acoustic performance and allow easy access above the ceiling for installation and maintenance of the buildings services. They also offer an effective way of providing lighting to the office by way of lay-in light fittings installed into the ceiling grid or feature lighting.
Plasterboard ceilings are formed using a rigid metal frame which is fixed to the soffit, then plasterboard panels are mechanically fixed to the metal frame before the ceiling is skimmed with plaster to a smooth finish and decorated. Plasterboard ceilings provide a clean look to a room and offer the ability to create design features for receptions and other areas where a particular impact is required. Hatches are an option if required for access to services.
Flooring
Safe durable flooring
We have a wide knowledge of commercial flooring types, which include broadloom, carpet tiles, vinyl/vinyl tiles, marmoleum, solid timber, laminates, natural flooring, safety flooring, ESD flooring, entrance barrier matting – all of which are installed by our flooring specialist.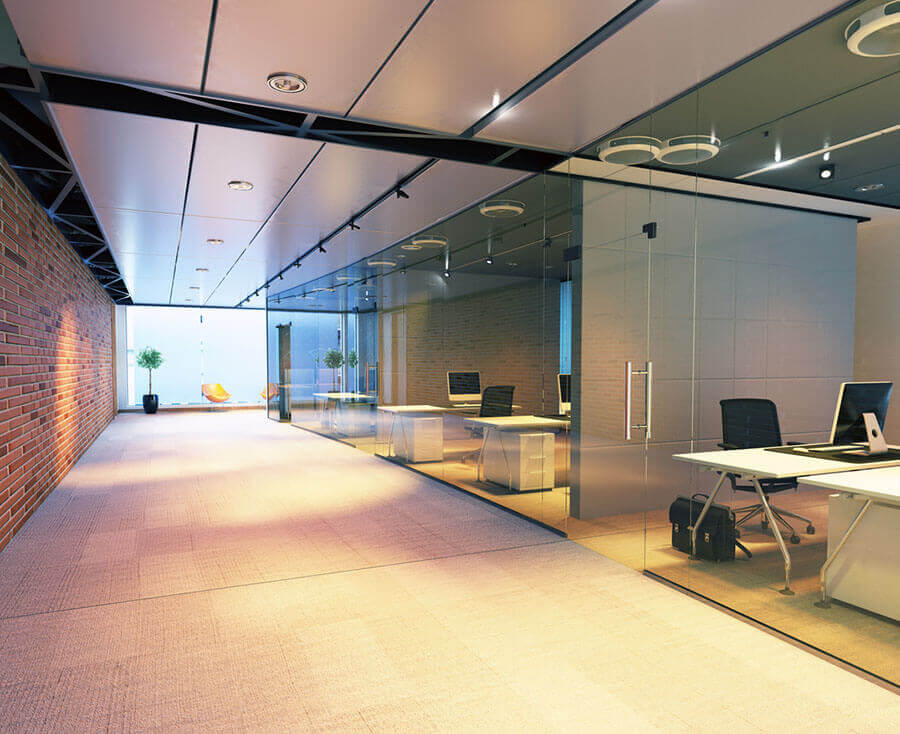 Flooring fit for purpose
The flooring you choose will depend on a number of factors including use of the area, corporate image, final 'feel' required, budget constraints, environmental considerations – we are able to provide you with advice on all of these matters. We have a number of direct accounts with various flooring manufacturers including Desso, Armstrong, Paragon, and have access to the majority of the market including Interface, Miliken, Polyflor.
Electrics & Data
Power & data for the modern office
From floors to ceilings and everything in between, we can help refresh your space with a range of innovative and stylish interior screens, flooring and furniture. Our partitioning and glazing solutions can help create new space and divide large open areas, improving acoustics and room layout. Ask us about co-ordinating your office space with your corporate branding and colour theme.
From floors to ceilings and everything in between